What is the science of love?
Two women scientists, across space and time, wrestle with motherhood in this smart comedy.
About the Show
Two women from different worlds – France in the 1700s and modern-day New Jersey – share the common bonds of motherhood, ambition, balance, and love. This relevant and contemporary comedy takes us through the science of planets, dark matter, philosophy, and fertility, as it explores what women contribute to the worlds of science and family. Legacy of Light juxtaposes the story of Émilie du Châtelet, a mathematician, scientist, and lover of the great 18th-century philosopher Voltaire, who became unexpectedly pregnant at 42, and that of a 21st-century physicist desperately trying to conceive a child.
for your safety
While Georgia is labeled "High Risk," Synchronicity will require all audience members to provide proof (via phone or paper) of a Negative COVID test (taken within 72 hours – rapid tests are fine) OR proof of full vaccination to gain admittance to the theatre. We also require that audience members wear masks at all times. Visit our COVID-19 page for our full COVID-safety protocols, including our ventilation upgrades and HEPA filter installations.
About the Playwright
Karen Zacarías is one of the most produced playwrights in the nation. She is one of the inaugural Resident Playwrights at Arena Stage in Washington, DC, and is a core founder of the LATINX THEATRE COMMONS. She is the founder of Young Playwrights' Theater, an award winning theater company that teaches playwriting in local public schools in Washington, DC. Karen lives in Washington, D.C. with her husband and three children.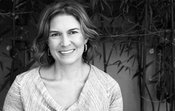 Cast + Crew
CAST AND CREW COMING SOON!
.