An unexpected encounter, deep-rooted prejudice and an ill-fated phone call lands Thomas in Robert's family … and a new identity. This funny and powerful new play examines what it's like when your world is turned upside down and you are forced to look, life through a different lens. Hands of Color boldly asks the question, is redemption possible?
This production contains mature themes and strong language. Recommended ages 15+.
ABOUT THE PLAYWRIGHT
Kimberly Monks is an emerging playwright. She recently recieved her MFA in Acting from UC San Diego. She graduated from Vanguard University of Southern California in 2015. UCSD Theatre credits: La Bete, Damascus, Native Son, The Taming of the Shrew, Are You There?, What of the Night, A Raisin in the Sun. Regional Credits: Incurable: A Fool's Tale (Guthrie Theater, 2017 Guthrie Experience), Wild Goose Dreams (La Jolla Playhouse). Kimberly is more than excited to be embarking on such a journey with Synchronicity Theatre for her playwriting debut. She plans to continue giving a voice to the marginalized and the silenced by telling stories that must be told.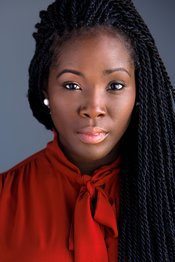 Cast + Crew

Enoch King
Robert

Emily Kleypas
Jesse/Natasha/Jennifer/Miss Kate

Therecia Lang
Stephanie

Justin Walker
Thomas

Wendy Fox Williams
Sarah/Rebecca
Alexis K. Woodard
Assistant Director
Vallea E. Woodbury
Production Manager
Dionna D. Davis
Stage Manager
Jai'anna Gonzales
Assistant Stage Manager
Chris Lane
Sound Designer
Jeremiah Davison
Sound Assistant
Derrick Vanmeter
Set, Costume, and Production Designer
Tony Fernandez
Costume Assistant
Lindsay Eisold
Technical Director
Maranda DeBusk
Lighting Designer
Samantha Eubanks
Properties Designer
Lee Anne Meeks
Master Electrician
Matt Brohammer
Master Carpenter
Elisabeth Cooper, Pat Young, Stephen Trammell
Carpenters
Steph Cerny
Scenic Painter
Angela Aquino
Graphic Designer
Amanda Sachtleben
Video Archival Recording