A Stripped Bare Arts Incubator Workshop
"A journey of self-discovery"
What's a bird to do?
Coming Home to Roost is a Theatre for Young Audiences play that follows the life of an adopted bird named Cay, an ostrich who is more than determined to fly and goes on a journey to discover that true self worth is embedded inside. With an homage to Dr. Seuss's rhythm and Jim Henson's physical animation, Coming Home to Roost is bound to be a new-age thrill for elementary audiences (1st-4th grade). Our youth that go along for this interactive ride will learn the importance of not defining themselves by the abilities of others; that they too are unique in their own skin.
Creating new plays takes time, open hearts, and dedicated space to nurture ideas. It takes a commitment to investing in artists and helping to discover and grow new voices. And it demands resources focused on process, artistic exploration, and room to risk. Our Stripped Bare Arts Incubator Project provides research and development time to at least four new projects per season – bolstering new artists, forms, and voices. A Stripped Bare project is not about sets, lights, props, and costumes. It is about actors, words, passion, movement, and ideas.
Learn more about Stripped Bare Arts Incubator Project HERE.
MEET THE ARTISTS
When Chris Lane was in diapers he got bit by a sound bug. The venom soon led him to pick up a saxophone, a set of drums, and eventually his laptop becoming a professional DJ, sound designer, audio engineer, and music producer for various productions across the nation from theatre, to film, to major live stage tours; now exercising his playwriting muscle to blend these rhythms into the script of theatrical works. Born in Baltimore, MD, and now based in Atlanta, GA, Lane is the active CEO at Multiband Studios. Check out the growing BIPOC creative collective at www.multibandstudios.com.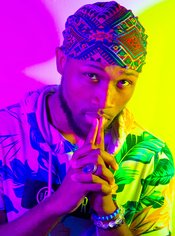 Cast + Crew
Jessenia Ingram
Stripped Bare Co-Producer
Jennifer Kimball
Stripped Bare Co-Producer