A new play takes shape
Two local theatres come together to support a new homegrown play!
*ONLY The Live Reading on APRIL 1st is OPEN to the PUBLIC.
About the Project
Impact Theatre Atlanta and Synchronicity Theatre will co-produce the world premiere of Kelundra Smith's The Wash. In preparation, this Spring, Impact Theatre Artistic Director Brenda Porter will direct a workshop to explore design elements and next steps for the script with the playwright. The full production will run in the summer of 2024, for four weeks in Synchronicity's midtown location, and then a 2-week run in Hapeville, where Impact Theatre is in residence at The Academy.
For more information about The Wash, please contact us!
About the Play
Black laundresses in Atlanta led a strike weeks before the International Cotton Exposition came to town. Demanding $1/week, the Atlanta Washerwomen's Strike of 1881 was the first successful interracial, organized labor strike of the post-Civil War era. The Wash offers an intimate and often funny look at ordinary women who went from workers to fighters– and won.
For more information about The Wash, please contact us!
About Our Producing Partners
Impact Theatre Atlanta offers a dynamic theatre experience that is entertaining, thought provoking and educational. We tell stories that touch hearts and celebrate those who have been marginalized. Impact believes in the power of community and offers programs fostering connections that engage, encourage and challenge people to grow. Founded in 2013, Impact Theatre is honored to be fiscally sponsored by the Academy Theatre, where they are in residence.

MEET THE CREATORS
Kelundra Smith (Writer)- Kelundra Smith is a theatre critic, arts journalist, and playwright whose mission is to connect people to cultural experiences and each other. She likes to write stories about people with lofty ambitions. Her work has been published in: The New York Times, Food & Wine, American Theatre Magazine, Bitter Southerner, TDF Stages, ArtsATL, Atlanta Magazine, and many other publications.
Her love of writing emerged when her second grade teacher assigned the class "story starters," which were incomplete sentences that the students were challenged to finish and weave into a story. From then on, Kelundra was hooked on the power of her imagination and knew she wanted to spend the rest of her life telling stories. Around the same time, she discovered the incredible collaboration and catharsis that can come from the performing arts by participating in school plays and skits throughout grade school. She went on to earn her bachelor's degrees in magazine journalism and theatre from the University of Georgia and her master's degree from the Goldring Arts Journalism program at Syracuse University.
She started her career working in arts administration and project management, doing marketing and community engagement for regional theatres and universities. But, the love of reviewing plays and art exhibitions that she developed in graduate school took over, and she "defected" to arts journalism. Today, she primarily reviews plays by and about diverse people from marginalized communities and writes articles about artistic works created by women and people of color. She also serves as a panelist, moderator and workshop facilitator and speaks to students and community groups about the performing arts.
In addition to arts journalism, Kelundra started writing plays in 2018. Most of her scripts are inspired by headlines and history. South African photographer Zanele Muholi once said "we must attach images to freedom." This is why most of Kelundra's work is rooted in the Black, southern tradition. Her goal as a playwright is to evoke empathy and inspire ethical activism. Her artistic mission is to restore Black people's place in the American theatrical canon and carry their stories around the world. 
Kelundra is a member of the Society of Professional Journalists and the American Theatre Critics Association, where she serves on the executive committee and the equity, diversity & inclusion committee. She has been a fellow at the Eugene O'Neill Theatre Center's National Critics Institute and guest critic at the Kennedy Center American College Theatre Festival. Her long-term goals are to land on The New York Times bestseller list, open a late-night dessert restaurant and have her plays adapted into a hit television series. Dozens of ink stained notebooks later, she still enjoys nothing more than a well-told story.
Artist Statement -Kelundra S. - Kelundra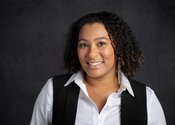 MEET THE CREATORS
Brenda Porter has a degree in drama from the University of Georgia and began her career as an actor over twenty five years ago.  Her Stagecredits include:  The Story, Wit, For Colored Girls..., The Art of Dying, So Long on Lonely Street, El haj Malik, Home, The Miracle Worker a nd her one-woman show; Pathways.  Her Television credits include:  Tyler Perry's House of Payne, Good Deeds, The Practice, Army Wives and Born Again Virgins.  She has Directed productions of Once on This Island, Five Guys Named Moe, Big River, Negro Dance Lesson, The Colored Museum, Like a Child, The Family Tree, the Wiz and Open Season,  Her Teaching experience spans all age groups and backgrounds as well as those who are physically/mentally challenged.  Presently, she continues to present her one-woman show and teach workshops throughout the City of Atlanta.